Erectile dysfunction can be an embarrassing subject to discuss, but it is extremely treatable. In fact, most men who experience ED go on to lead completely normal sex lives with the proper treatment. Medication for this disorder can be obtained by prescription through your family doctor or a specialist in your city. Some regions may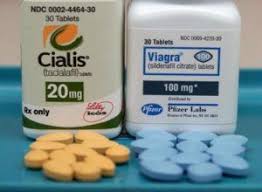 have more options than others when it comes to the type of treatment available. ED treatment in Las Vegas, for example, offers the option of specialized sexual health clinics devoted specifically to men.
There are different ways to manage erectile dysfunction and your doctor will explain which is best for you depending on your medical history, age, and symptoms. Sometimes the treatment will be aimed at the underlying cause of your ED, rather than the ED itself. For example, if you are unable to achieve an erection due to stress and anxiety, a counselling service might be suggested. If your inability to perform sexually is caused by high blood pressure, then your doctor will likely prescribe medicine to treat the blood pressure first, and then target ED symptoms if they continue. For a better idea of the types of medications available and how they differ, read on below.
Oral Medications For ED
Oral medication is the most common type of ED treatment on the market, as well as the most easily accessible. These include sildenafil, branded Viagra, tadalafil, which is sold as Cialis and vardenafil, also known as Levitra. These medications use different ingredients, but achieve the same result, blocking an enzyme called phosphodiesterase 5, which breaks down the nucleotide, cyclic guanosine monophosphate, used for blood flow regulation. The Boston University School of Medicine writes; "PDE5 inhibitors act to relax penile erectile tissues with sexual stimulation thus enhancing your ability to get an erection. Sildenafil (Viagra) is effective for all sorts of erectile dysfunction in 69% of people."
While each of these medications block PDE5, they differ in dosage, side effects, and potency. For example, Vardenafil requires a far smaller dose than Sildenafil to achieve the same result, and Sildenafil has a much shorter half-life at 4-hours than Tadalafil at 17 and a half hours, meaning Tadalafil will last and remain in the blood stream longer than Sildenafil.
Side effects of PDE5 inhibitors include flushed skin, headaches, upset stomach, abdominal cramping, low blood pressure, and dizziness. Men who have a prescription for heart related illnesses, such as angina, should avoid using PDE5 inhibitors, as they could cause a severe and dangerous drop in blood pressure. In this case, your doctor may suggest another method of treatment. You can find these medications at a reduced rate by visiting low cost ED clinics in Las Vegas, NV.
Sildenafil: Sildenafil works within an hour of taking it and should be taken with food. This pill comes in three doses, 25, 50, or 100mg, with 50mg being the most commonly prescribed dosage, and 100mg only being prescribed in extreme circumstances when smaller dosages are unsuccessful after many uses.
Vardenafil: Taken roughly 1-hour before sex, Vardenafil can be taken anytime, with or without food, but might be slowed by the intake of meals consisting of too much fat. Like Sildenafil, Vardenafil comes in three doses, 5, 10, and 20mg, with the most common dose being 10mg.
Tadalafil: Tadalafil could begin working as early as 30-minutes after taking it and can last up to 24-hours. The typical dose of Tadalafil is 10mg, but for men who find minimal results with the 10mg, 20mg can be prescribed.
Compound Medication for ED
The above-mentioned medications can be obtained through the services of a compound pharmacy, rather than the branded pills purchased at most chain pharmacies. Compound pharmacies create their prescriptions on-site, tailoring medication to suit the individual needs of each patient.
Compound medicine can alter the average dosage of a medication, remove or add ingredients based on allergies or special needs, and be administered in varying formats, such as liquids, powders, pills, or troches. You can get a prescription for compound pharmaceuticals for erectile dysfunction by visiting a sexual health clinic in Las Vegas.
Penile Injections for ED
For men who are unsuccessful with oral medication, penile injections are available for ED. This treatment is approved by the U.S. Food and Drug Administration and produces an erection automatically within 5-15 minutes of use. This differs from oral medication which requires sexual stimulation to work. Alprostadil is the name of this medication, which is injected into the sides of the penis to increase the size of the arteries, encouraging blood flow.
Injection therapy can be uncomfortable and slightly painful and requires you to learn how to properly perform injections so that you can do so at home on your own. The treatment lasts 30-minutes to an hour, or until you reach climax, whichever comes first. According to Urologicalcare.com; "The most common side effect reported (37%) is a mild to moderate dull ache, which occurs 5 to 20 minutes after injection. This ache is increased by standing subsides when the erection is gone. It is believed that the ache is due to the potassium present in the medication."
Penile Implants for ED
An invasive treatment which is usually discussed as a last result, penile implants work well for men who have exhausted other ED treatments with no success. The Journal of Sexual Medicine writes; "Penile prostheses, introduced as the first effective organic treatment for erectile dysfunction over three decades ago, have an important role in the treatment of erectile dysfunction when other nonprosthetic treatment options have proven unsatisfactory."
Benefits of an implant includes convenience of use, long term results, and no need for constant prescription renewals. Cons of this treatment include discomfort, possible side effects, and an initial high cost.
Although your doctor is the best judge of which treatment is best for you, you are ultimately the one who will make the decision of which to use. Do your research and choose based on your personal needs and medical history.